Driving Tours will begin at 8 am and end at 4pm directions and information will be provided to the various venues with regard to hours of operation etc.

Driving Tour to the Utz Potato Chip or Snyders Pretzel Plant & Prueitt Restorations – will consist of a tour of a manufacturing facility and a nationally recognized restoration shop with a reputation of excellent work on high end cars.

Antietam Battlefield and Don Bowman Collection – The tour to Antietam will include a movie and lecture by a park ranger. Take your National Park Pass if you have one and team up to enter four at a time. Don Bowman's collection comprises approximately 90 vehicles. A buffet lunch is included.
Eastern Museum of Motor Racing – EMMR is located off PA route 15 north of the hotel and consists of a collection of early race cars, engines, and an extensive library. Also on site is the Latimore Race Track.
Bus Tours will begin at 8 am from the hotel lobby area.

Fort McHenry – will include a film presentation and lecture by a National Park Ranger at the location responsible for originating the national anthem, "The Star Spangled Banner". A stop enroute will be made at the Museum of Industry and to allow lunch on your own. If you have a senior National Park Lifetime pass, use it for park entrance.
Gettysburg Visitors Center and Cyclorama and Battlefield – The Gettysburg Visitors Center has an extensive Civil War collection and the Cyclorama exhibit is worth the visit. The Battlefield tour will include certified guides. Museum entry tickets and lunch will be provided.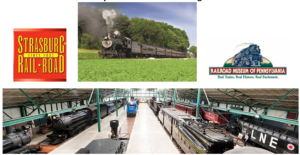 Strasburg has an operating Steam Train and Train Museum (tickets to the Museum are included) with food available for lunch on your own.